135 years of achievement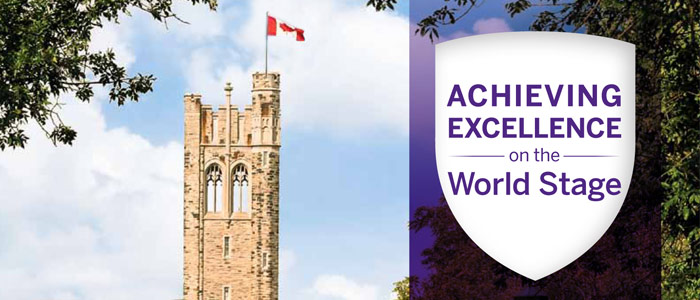 A HISTORY OF STRIVING TO BECOME
"THE GREATEST UNIVERSITY IN CANADA"


Founded in 1878 as "The Western University of London Ontario," our University remained relatively small during its early years before experiencing rapid growth and development following World War II. By 1956, Western's President, Edward Hall, was challenging his colleagues to aim higher, "to think in terms of this university becoming the greatest university in Canada." The campus community responded, and Western has since evolved into a teaching and research leader.
With an enviable national reputation, and an expanding international profile, Western today ranks among the top 1% of higher education institutions world-wide. It is a founding member of the U-15 (Canada's group of leading research universities), serves as a hub for more than 500 international research collaborations, and is recognized as one of Canada's Top 100 Employers. Guided by its institutional motto, Veritas et Utilitas, Western is devoted to both the search for truth and the application of knowledge. Its faculty, staff, librarians, archivists, postdoctoral scholars, students and alumni have changed the world.

The following list of firsts, milestones, and achievements, offers only a hint of the extraordinary story Western has to tell:
1921: As a medical demonstrator working at Western, Frederick Banting conceives his ideas that led to the discovery of insulin with Charles Best;
1928: The first woman in Canada to earn a PhD in marine biology, Dr. Helen Battle, joins Western's Zoology department as an Assistant Professor. Battle becomes a renowned and award-winning teacher and researcher who campaigned during the course of her 40-year career to improve the place of women in science and academia;
1951: Western researchers led by Ivan Smith are the first to use cobalt radiation therapy in the war against cancer, raising the cure rate for cervical cancer from 25% to 75%;
1950s: Neurosurgeon Charles Drake develops and teaches his world-famous surgical techniques for repairing ruptured brain aneurysms at Western;
1965: Alan Davenport pioneers the science of wind engineering at the Boundary Layer Wind Tunnel he founded at Western; his research shapes the design of some of the world's largest and most famous buildings and bridges;
1960s through 80s: James Reaney builds his legacy as one of Canada's most celebrated poets, playwrights and educators while teaching in Western's Department of English;
1976: Western alumna Roberta Jamieson becomes the first Aboriginal woman to graduate from a Canadian law school, launching a career of firsts as a leader and role model for all Canadians and First Nations peoples;
1992: In response to the global impact of HIV/AIDS, C. Yong Kang establishes a lab at Western where he develops a preventative vaccine for HIV; the vaccine is now entering the second of three phases of human clinical trials, and holds promise to deliver a cure for millions worldwide;
2004: Residence staff member Bob Gough leads the creation of Western Heads East, a multi-disciplinary teaching, research and development program that brings students, staff and faculty together to help African communities grappling with high rates of HIV/AIDS infection;
2013: Forbes Magazine names World Health Organization Director-General and Western alumna Margaret Chan (BA'73, MD'77) as the world's 59th most powerful person;
2013: Former Western student, Writer-in-Residence, and honorary degree recipient Alice Munro becomes the first Canadian woman to win the Nobel Prize in Literature.
We are proud of this record of individual and collective achievement. As it continues to add entries from the full range of established and emergent academic disciplines, Western's institutional self-confidence and global reputation will grow with it. Our shared history demonstrates that Western's past and future achievements are limited only by the imagination, expertise, and aspiration of its greatest asset: its people.
In the decades since President Hall challenged us to think big, the campus community has responded and evolved. Today, we welcome approximately 5,000 first-year undergraduate students each year to our extraordinarily beautiful residential campus. As social demand for access to university education has grown, Western's enrolment has expanded to meet the need for global-ready citizens educated to compete in today's knowledge-based economy. Western's unique physical infrastructure, welcoming local community, tremendous faculty and staff, vibrant academic programs, and wide range of support services attract the brightest students from across Canada and around the world.